GYPSUM PARTITION & GYPSUM CEILING SERVICE
Ceilings are one of the most important elements of your home as they offer the maximum pleasant view of any interior space. High standard Ceilings Work can be accommodate a definitive look and feeling in yourself. It helps you create a unique atmosphere in your home.
Amety Technical Services LLC has been providing False Ceiling Work and Gypsum Board Partition Work for both the residential and commercial sectors in UAE.
Amety Technical Services LLC is not only a False Ceiling contractor for businesses in Dubai but we are also creating modern, stylish Plasterboard and Gypsum Board Ceilings for the home.
A false Ceiling is a second ceiling that is suspended close to the main ceiling with a metal frame. It has become an integral part of modern architecture in both commercial and residential developments.
False Ceiling work mainly use to hide away unsightly units, cables and pipes as well as provide extra sound insulation. False Ceilings are being used more and more often as design features in modern homes.
One feature they provide is the ability to place LED lighting in the ceiling, offering you the opportunity to easily fit mood lighting to your living space.
When you hire a False Ceiling Contractor in Dubai, you need to hire someone who knows not just the technicalities but the design too. At Amety Technical Services, a team of highly skilled, experienced contractors are able to fulfill these needs through their knowledge of the materials and fashion of the age.
Our False Ceiling Services include the following:
Gypsum False Ceiling Installations Work
Gypsum False Ceiling Repairing Work
Modular Gypsum False Ceiling Work
Gypsum Partition walls Ceiling Work
Gypsum Partition Removal Work
Fiber Cement False Ceiling Work
Cornices False Ceiling Work
False Ceiling Painting & POP Work
Plaster & Insulation Work
Power Washing
Wood Refinishing
Industrial Painting
Commercial Painting
GYPSUM PARTITION OR DRYWALL PARTITION
Gypsum Board Partitions find immense application in modern architecture and styling. It is also known as drywalls, these partitions are made by pressing the gypsum plaster successfully between two thick sheets of paper. Partition walls can separate off any areas in your home or office. A Gypsum Partitions or Drywall Partitions are allows you to create the perfect space.
Amety Technical Services LLC is trusted name for Gypsum Board Partitioning work. We can effectively installed Gypsum Board Partitions by our trained technicians.
Our Partition Services include the following: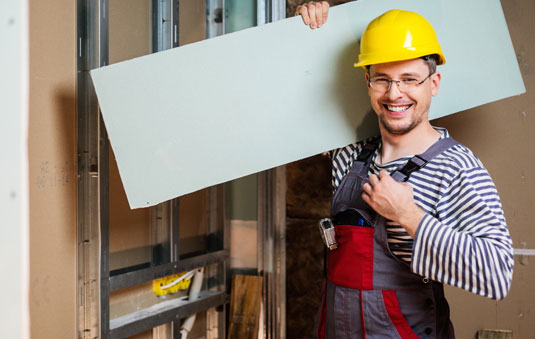 Gypsum Partition and Installations
Office Partitions
Home Partitions
Wet Area Drywalls Partition
Bathroom Partitions
Kitchens Partitions
Performance Drywalls Partition
Sound insulation (50db to 70db)
Passive fire protection (one to four hours)
Strength (Severe duty)
We are waiting for you to get in touch with us so please call our Help-line Number or fill out the Enquiry Form to schedule an appointment.
We'd love to hear from you.
Say us hello!